1. What is flexitank.
Flexitank is a special, soft and tight tank with volume from 10 up to 24 thousand liters. Made from plastic material, it is an ideal product to store and transport all kind of non-hazardous liquids and chemicals by sea, railway and road. It can be placed into a 20' dry container.
BBL Flexitank is composed of 3 or 4 inner layers of food-grade Polyethylene (PE) and 1 outer layer of one time integral molding Woven Polypropylene (PP) fabric. The one time integral molding Polypropylene design removes risk of rupture lengthwise.
BBL Flexitank Details:
Capacity: 14KL-24KL
Structure: inner multilayer PE + 1 out layer PP
Inner layer: 2*0.125mm + 1*0.25mm foodgrade MLLDPE Films?
Out layer: 180gsm PP Fabric Woven
Inner layer: 4*0.125mm foodgrade MLLDPE Films
Out layer: 180gsm PP Fabric Woven

Type:
Top loading/discharging
Bottom loading/discharging
Top loading/Bottom discharging
One time integral molding tubular type PP eliminates longitudinal seams thus reducing the risks of defects or failures. Each 10cm out layer reinforcing rib means enhanced physical strength, durability and safety resulting with improved containment.
The 3inch ball valve is fixed firmly into the stainless steel Flange. This improves the safety and removes the risk of leakage from the valve when loading or discharging.The Anti-suction Valve design minimizes residue in flexitank after discharge.
The Stainless Steel Flange design is mechanically fitted to the Flexitank,and guarantees replication of fitting when compared with welded systems.
The specially designed bonnet provides a clean and secure containment area around the valve and is designed to ensure that any seepage or small spillages that might result from filling or discharge do not become incidents during transit.
2. PEliner
Second protection to the flexitank. It can be used for many times. Spread corrugated paper first and then the PE liner. And it can also avoid leakage liquid to contaminate other containers.

3. Our steel bars
Item

Picture

Descriptions

Package size

Unit

Steel Bar (BBL01)

5pc kit
5pcs steel bar + 1pc wooden XPS
bar size: 2.4*0.05*0.002m (7kg*5)

2.42*0.22*0.13m

set

Steel Bar (BBL02)

6pc kit
6pcs steel bar + 1 pc wooden XPS

bar size: 2.4*0.05*0.002m*5pcs+2.4*0.03*0.002m*1pc (7kg*5+1.5kg)

2.42*0.22*0.13m

set

Steel Bar (BBL03)

5pcs/set
size: 2.4*0.05*0.002m
2pcs are welded as the picture
Total net weight: 42kg

2.42*0.3*0.14m

set
4. Our bulkhead
Bulkhead (BBL 01)

Cardboard Bulkhead
A*A*A Hard Cardboard
2.33*1.48*0.016m/10.8kg

2.33*1.48*0.016m

Bulkhead (BBL 02)

Hard PP Bulkhead
Hard PP material
2.33*1.50*0.013m/11.6kg

2.33*1.50*0.013m

pc

Bulkhead (BBL 03)

Steel Bulkhead
Steel material
2.33*0.62*0.09m/40.75kg*2pcs

2.33*0.62*0.09m

set
5. About Heating Pad
Steam Source Heating Pad
1 Used for easy crystalized liquid for rapid discharging of cargo
2.Cycle use
Mainly applied for below items:
PALM OIL ,SUGAR SYRUP,GLYCERIN,ANIMAL OIL,WAXES,PARAFFIN WAX,MALT EXTRACT,COCONUT OIL ect.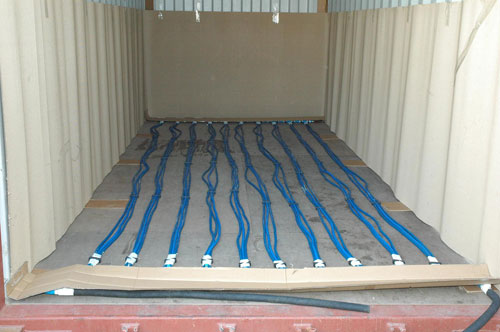 How to operate the heating pad when discharging liquid:
1. Once laden container has arrived, open the right hand door of the Container.
2. Hand the outputting hose to the outside of the container left door.
3. Straighten the hoses and check if they are not bent, kinked or twisted.
4. Connect the inlet hoses to the steam or hot water hoses. Ensure that steam or water is properly discharging from the outlet hoses.
5. Slowly increase steam or hot water pressure to the heating pad. Check the melting temperature of the product and ensure that the heat source is not hot to overheat the product.
6. Once the product has been sufficiently melted, start to discharge the product. Do not turn off the heat source at this stage.
7. Heating until one quarter of the product remains and slowly decrease the steam or hot water pressure. Pump out the remainder of the product.
8. Allow the heating pads to be sufficiently cool before you disengage the hoses. Dispose of the heating pad once the operation is over.

3. Installation
Please download installation instruction here.